​Welcome to our website on how to keep your home tidy, clean, and organized! ENJOY! :)

Our first topic is organizing your bedroom
your room is

the most important room because you invite your friends and they will step on your clothes on rotten food you just left there. Also when you go to sleep you don't want to hurt you back when you lay down. Here are some tips on how to clean your room and keep it clean for you and your guests! One of our tips is to not let your room get extremely dirty, tidy your room daily and it won't seem like heavy work. Do this by making your bed every morning and keeping your clothes off the floor.
Powered by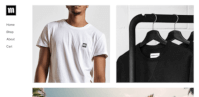 Create your own unique website with customizable templates.